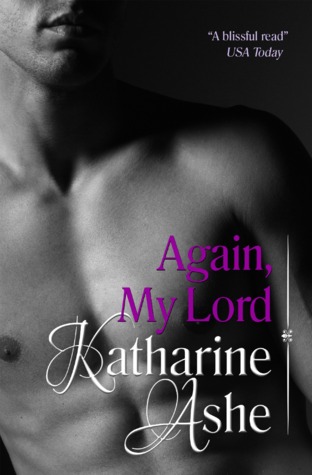 Two Stars
Katharine Ashe is one of my instant go-to authors. I've read some of her books and I absolutely loved them. She is such a talented storyteller. "Again, My Lord" is the second book in the "Twist" series. The previous book "My Lady, My Lord" was hilarious and I really enjoyed it.
The story is set in one day but previous to the story we find out a little bit of history. Tacitus Everhard was a very reclusive person. The only child, once his parent's die he is very lonely and finally decides to marry. He sets his sights on Calista Holland. However, Calista and Tacitus are complete opposites. Where he is very series, she is very light and flirty. One day in the mist of his courting, he gets fed up with Calista and her immature ways but Calista asks him to come back the next day. Tacitus does and continues to spend his time with Calista and her siblings. Calista's father is in debt and must marry her off, in despair she goes to Tacitus to ask him to help her escape her home, he doesn't and she eventually ends up marrying someone else.
Calista did not have a good marriage. Her marriage was not a happy one and her husband was horrible. She sends her son off to visit her family and stops in a small town where she runs into Tacitus. Calista has a plan to run away from her husband and has the statue of Aphrodite with her.
To make a long story short Calista keeps living over and over the same day. However, she is the only person that knows it's the same day repeated everyone else is just living the same day again and again. Each day does teach Calista something different but she finally becomes exasperated when she can't figure out how to change the day and move on. In the middle of this she is trying to convince Tacitus to give her a second chance.
I'm so sorry to say that I just did not like this story. I found it to be so tedious and it grated on my nerves… I even put it down and hoped that once I started re-reading I would like it more, but I didn't. I never really warmed up to Calista. Tacitus was a nice hero but he didn't really stand out to me. Nonetheless I still plan to read anything that Ashe writes.