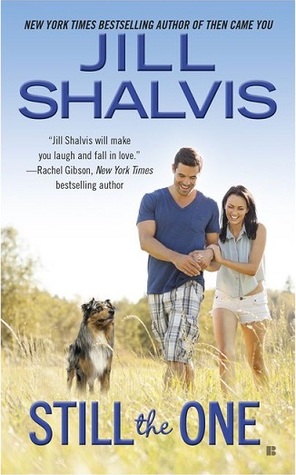 Four Stars
original review at http://ramblingsfromthischick.blogspot.com/
Jill Shalvis is a very successful contemporary author. Her books are frequently seen on the New York Times bestsellers list but I've just recently started to read her books. "Still the One" by Jill Shalvis is an example of why Shalvis is so successful. Her books are impossible to put down and her characters are impossible to forget.
Let's start with the heroine- Darcy Stone. I just loved Darcy. She is a mixture of strength and vulnerability. I love that her last name is Stone because it fits her so perfectly. When the story begins Darcy is working for hunky physical therapist A.J. Colten. A.J. and Darcy are night and day. He is very organized and straight laced. Darcy is definitely not. She loves to live on the wild side. Previous to her accident she was a writer for a traveling magazine. She loved to wander around the world. When she had a horrible car accident it was A.J. that helped her heal with his physical therapy. A.J. is like a member of the family. He is very close to both of Darcy's siblings. When in a moment of vulnerability Darcy turned to him he rejected her. Darcy has a lot of anger and frustration because of this but takes it out on A.J. by bickering with him. Although Darcy comes off very tough she is a very sweet and loyal person. She is also incredibly passionate about rescuing dogs.
A.J. comes off as he has it all together but he really doesn't. He carries his own insecurities and his own wounds from the past. Even though A.J. seems indifferent to Darcy, unless it's to get on her case for not taking care of herself and not eating healthy, he is really trying to be honorable and not cross the line of friendship. A.J's stoicism is challenged when he has to ask Darcy a favor. A.J. is a successful physical therapist but he often has to get grants in order to help patients pay for their care. He has a meeting with a potential investor that is willing to help and Darcy would be a perfect example of his abilities as a physical therapist. Needless to say A.J. and Darcy can't resist their mutual attraction and as the elements conspire against them they are forced to extend their trip and their relationship finally changes.
I really enjoyed this story and the characters. Even though this is a part of a series "Animal Magnetism" and characters from other books make an appearance this is easily a stand alone. I was so happy to see Darcy and A.J. finally work up the courage to admit their feelings for one another. A.J. was such a great guy. He really did so many things out of love for Darcy, it was so sweet and endearing to read. Needless to say I really enjoyed this beautiful story and highly recommend it. Shalvis delivers a fun, sweet, romantic and steamy story. Looking forward to reading more by her!