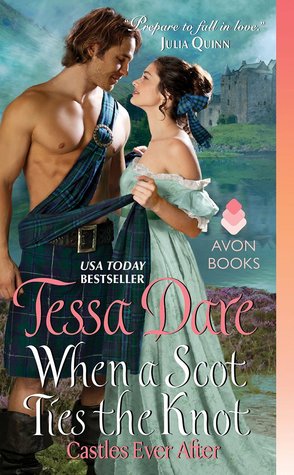 I can't believe that I am recently discovering Tessa Dare because she is such a creative author! I've only read a handful of her books but each one leaves me wanting to read more by her. "When a Scot Ties the Knot" is the third book in her series "Castles Ever After." I really enjoyed the previous book, "Say yes to the marquees" so I jumped at the chance to read this one. I was not disappointed.
One aspect of Dare that I am beginning to notice is that she is very creative and original in her characters and her plot. I think a story is going in one direction and then it goes in another. I can honestly say that I did not have this story figured out!
Miss Madeline Gracechurch, our heroine, is fantastic. I absolutely loved her and enjoyed reading about her! She was interesting and original from beginning to end. Maddie lives independent in a castle that she inherited from a family member. She inherited this castle in order to properly mourn for the death of her fiancé that she fabricated. Maddie suffers from anxiety and it's especially prevalent when she has to attend social gatherings and balls. In order to spare herself this angst she fabricates a fiancé. As fate will have it Maddie comes face to face with her fiancé and he is ready to get married.
Captain MacKenzie was a very serious and likeable character. He sees a way out of his situation by "cashing" in on all the letters he received from Maddie while he was a soldier. It was interesting to see his motivation which although at face value might seem selfish, really had more depth and meaning behind it.
As Captain MacKenzie and Maddie realize that this farce could really benefit them both, they work out an arrangement that will be mutually beneficial. At first it starts out as a business agreement but as they begin to know each other and develop feelings for one another the lines of their agreement begin to blur.
I personally think Dare a fantastic job with this story. She really made Maddie a very strong, smart and independent woman with a huge heart. I loved both the hero and the heroine, I also found the background characters to be fantastic additions to the story. There were so many sweet and tender moments that had me wiping my eyes. I can't wait to read another story by Dare!