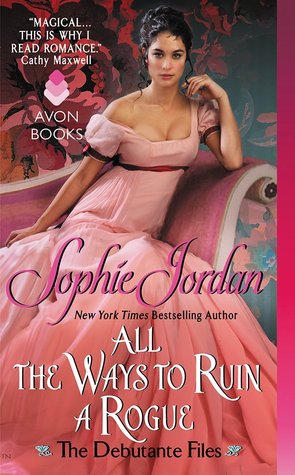 I've been waiting for "All the Ways to Ruin a Rogue" by Sophie Jordan since I read "A Good Debutante's Guide to Ruin" which is the first in the "Debutante" series. I really enjoyed that book and I was instantly hooked on Lady Aurelia and on Max, Viscount Camden. I could not wait for their story. Sometimes anticipating a story is not the greatest because it can lead to disappointment but I'm glad to say that "All the Ways to Ruin a Rogue" was fantastic. I was completely engrossed in the story and loved reading Lady Aurelie and Max's story.
Although this is part of a series it can easily be read as a standalone. I read the previous book in the story so I knew about the every present feud between Max and Aurelie, however anyone that has not read the previous book won't have any issues (although I really enjoyed that story too).
Jordan starts off when Lady Aurelie was fifteen and she falls in love with Max. She also explains clearly how their friendship broke apart. Since that fateful day when Lady Aurelie's heart was broken her and Max became enemies and spent their time together arguing. This causes some friction in their lives because Max is Lady Aurelie brother's best friend and is considered part of their family. When Max and Lady Aurelie meet up at a dinner party they continue to bicker but things quickly change for Lady Aurelie when her brother, Will, and his wife (Violet) announce that they will be having a baby. Although Aurelie never worried about marrying before she realizes that she will either have to marry or move to Scotland with her aunt and mom, neither option is appealing to her. She realizes she can no longer continue to live with her brother and his wife.
Max immediately notices the change in Lady Aurelie's attitude and he is not happy that she is looking for a husband, but he doesn't want to fill the position. Max knows Aurelie and he knows her very well. He knows what she really likes and her deepest secrets. Max is determined to keep Aurelie in line but he is not able to keep himself in line. When she visits a notorious pleasure club he goes running after her to protect her. Max was an interesting character. He was through and through a rogue.
Once I started this book I could not put it down and was completely engrossed. I loved the tension between Max and Aurelie. Their verbal barbs were fantastic. My heart really went out to Aurelie. She was really stuck because she wanted to be free and do as she pleased but she really couldn't because she was a women. Even when it seems that things are going badly for her she never backs down. Finally, I loved the angst between these two characters so much. I had tears in my eyes because they seemed determined to make each other miserable even though they really loved each other. I thought the dialogue was funny and witty. Not to mention that I cannot wait to see what Jordan does with Struan Mackenzie. He was a great challenger to Max for Aurelie's hand. Book's like this are why I love to read and why I love historical romance. I could not recommend it more!