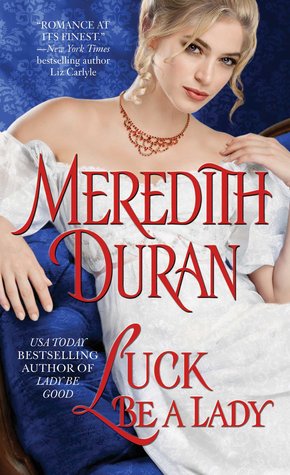 original post at: http://ramblingsfromthischick.blogspo...
This is my second novel by Meredith Duran. I am absolutely blown away by her! It's not every day that I am completely absorbed in a story and can't put it down. The first novel of hers that I read was "Fool Me Twice" which I loved. I find her to be a very creative and inventive author. I never know where her story is going and her hero and heroine are always so raw and filled with flaws. I just want to sit and binge on all her books. I've requested her books at my local library but I don't think that they understand the dire situation I am in to read all her books.

What makes her so great? First, I love the tension between her characters. Catherine Everleigh is known as the "ice queen" because she has no interest in securing a husband. She is more interested in Everleighs her family's auction house. Despite the conventions of the time, Catherine's father taught her how to run an auction house for antiques. He also left her half of the business but he left a stipulation in his will. She had to marry. Catherine spends most of her time at the auction house. It is her heart and soul. When she realizes that her brother is determined to marry her off, actually sell her to the highest bidder, she takes things into her own hands.

Nick O'Shea is the perfect choice for her. They are complete opposites. He does not come from a noble birth, he made his money in the poor and lowly life in the seedy side of London. Nick owns the "undesirable" parts of London. He is the owner and landlord of much of the buildings. He is however facing come confrontation on one of his buildings and needs a critical vote from the board. Catherine can provide him with this vote.

So I will have to say at first Catherine was hard to understand. It was also hard to understand why her father, who really gave her skills that were not typical of women in this time period, why would he attached the stipulation that she had to marry in order to come into her inheritance? Also, I thought that there was a little bit of a missing spark between Nick and her. However, these were small issues. Nick and Catherine were great characters. The plot is fantastic. Catherine is at her brothers' mercy. He is a complete slime ball. With Nick's help she is finally able to turn the tables around on him. Nick might not be of noble birth but he earned his riches. He was dirt poor and lived through horrible situations as a small child. Instead of removing himself from London's poor and helpless, he turns into their protector.

I loved this book on so many levels. I really loved Catherine's spirit. I loved Nick's kindness and his rebellious nature. He made and lived by his own rules. Needless to say, I'm counting down the days until Meredith Duran's next book!