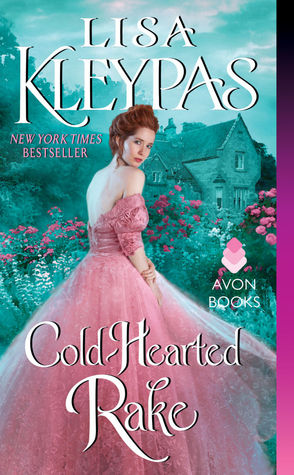 Five Stars
original review: http://ramblingsfromthischick.blogspot.com/2015/12/review-cold-hearted-rake-by-lisa-kleypas.html
I'm going to try to write this as a review for "Cold-Hearted Rake" by Lisa Kleypass and focus on the book instead of my undying love for the author. Seriously, wow. Can anyone write a historical romance better than her? Years ago I gave up reading romance novels until I stumbled across Keypass' "Suddenly You" which is a standalone. I was so enamored with her writing and storytelling I checked out anything and everything I could at the library by her. I even read her contemporary and hands down she is just amazing. "Devil in Winter" is one of my all-time favorite historical romances. I've read it numerous times and will re-read again in the future.
After nearly five years, yes! Five years! She has finally written a new story" Cold-Hearted Rake" and it is a part of a series, to which I am incredibly grateful because I could not get enough of the characters in the story. All of them. I just loved them. I think one of the reasons that Kleypass always impacts me with her writing is that she just strips away all the emotions from her characters and they just become so vulnerable that it is impossible not to love them and cheer for them as they struggle to find their way.
"Cold-Hearted Rake" is the first book in the Ravenel's series. I feel giddy just thinking about what she has instore for West, Devon's brother. What she has in store for the twins and finally the next book in the series, "Marrying Winterborne" the story of Rhys Winterborne and the painfully shy and virtuous Lady Helen Ravenel.
But first our hero, Devon Ravenel has just inherited an earldom with an estate that is crumbling around his ears. His first inclination is to sell. He doesn't want any of it, that is until he meets Kathleen. Lady Trenear is his cousin's widow. To say that they dislike each other is an understatement. But Kathleen is tough and she is not shy about standing up to Devon or his brother West. She is prepared to take her sister-in-laws under her protection and take care of them. Devon for all his best efforts can't resist the pull that he feels not only to his inherited estate but also to Kathleen. Kleypass never has an easy road planned for her characters and Devon and Kathleen are no exception. They face it all from derailed trains to failing estates and they do it with the romantic melodrama that only she can create.
Obviously, I really loved the book. I read it once and then re-read it. I lost sleep but I didn't care. I was fascinated and intrigued with the characters and their witty-laugh-out-loud quips back and forth. In order to preserve my sanity, I'm not even going to think about the next book but for me it can't come fast enough. If anyone has never read Kleypass before, this is a perfect introduction. The only other I would recommend is Devil in Winter. No one does antiheros like Kleypass. Simply amazing.