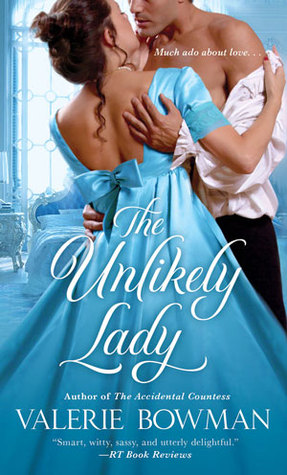 Five Stars
Although I love Historical Romance I'm still relatively a new comer to Valerie Bowman. The first book I read by her was "The Unexpected Duchess (Playful Brides, #1)." I loved this story so much and was instantly hooked on the Playful Brides series. I read the second book in the series "The Accidental Countess" but didn't "love" it as much as the first. In retrospective I think this has to do with the fact that I love tension between the main characters and I love strong, funny and witty heroines. Although Cassandra is a sweet character I found her to be very flat. When I saw "The Unlikely Lady" ,which is the third in the series and also about the bluestocking Jane, I jumped at the chance to read it! I loved Jane in the previous books and I loved her witty comments to Lord Garrett Upton. Sometimes when we anticipate a book so much I feel a little let down because in my mind I have built it up to be so fantastic. Well, I can happily say "The Unlikely Lady" exceeded my expectations. First, Valerie Bowman is such a fantastic writer. Really. She just knows how to weave beautiful sentences and express such deep emotions that I not only loved the plot but I loved the characters and the beautiful sentimentality behind every aspect of this story. Once I started to read Jane Lowndes and Garrett's story I could not put it down. I was 50% through the first night and finished it the next night. This is a-dark-circles-under-the –eyes book.
As I mentioned before, I love Jane. She is her own person and is considered a bluestocking spinster. A title she happily carries. Her only problem is that her mother refuses to let her only daughter remain a spinster. When Jane is invited to her dear friend Cassandra's house party, which is right before her wedding she has to invent an imaginary chaperon to accompany her. Jane just wants to spend some time with her friends before Cassandra gets married and read her books. When she arrives at the house party she is reunited with her best friends Cassandra and Lucy. It should be obvious by now that any time Lucy is involved some mishaps will happen. Another house guest in attendance is Garrett. Jane and Garrett are always sniping at each other and trading barbs. Garrett is Lucy's cousin and he is often around Jane.
Jane sees Garrett as a dumb womanizer and a gambler. Garrett is far from that. He was actually a complete gentleman and a great human being. But because he thinks Jane is a little know it all he never corrects her misconceptions about him. Bowman adds another character to the mix. Isabella Langford. Isabella's husband, Harold, and Garrett were soldiers together. When Harold saved Garrett's life and lost his own Garrett took it up himself to care for Isabella and her children. As can be expected Isabella's presence at the house party causes a few problems but it also helps Jane to realize that she is not comfortable with Garrett and Isabella and the "nature" of their relationship.
Really I just loved this book. I enjoyed every single page. I loved seeing Jane, Cassandra and Lucy together again and up to new schemes. I do have to say some things in the book were a little farfetched and I would love for Bowman to stop placing characters in the dark where after spending years in each other's company suddenly they don't recognize the other person, but I have to forgive her for this because it's so fun to read. There were funny moments and witty dialogue and I cannot wait to read Daphne's story next! Bowman ended the story on a great cliffhanger! Loved Jane and Garrett.