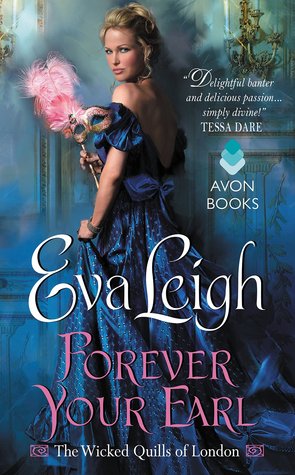 Four Stars
Forever Your Earl"(The Wicked Quills of London) was a great read! I read a lot of historical romances so at times I feel like I'm reading the same plot over and over. Not so with this work by Eva Leigh! It was fun, original and entertaining.
Eleanor Hawke was so refreshing! Page one I enjoyed her and her mission and I really never lost interest in her as the story unfolded. Eleanor is a writer for one of the most popular gossip newspapers in London. Her main focus is Daniel Balfour Earl of Ashford. She always calls out his playboy lifestyle and basically embarrasses him for his behavior. Daniel has had it. He is tired of being the focus and taunts of "The Hawk's Eye." However, the stalks are higher when he does have very important secrets that can't be revealed.
When Daniel discovers that "The Hawk" is really run by a woman-Eleanor, he is both shocked and intrigued. However, he can't lose focus and has to make sure that he can get Eleanor on his side before his secrets are revealed and lives damaged. Daniel plays into Eleanor's desire for gossip and they become a sort of team. He will give her access to certain aspects of society but he has his own conditions.
There were a lot of things that I loved about this story. One: the original concept of a commoner who happens to be a writer for a gossip newspaper and an Earl teaming up. Two, I really loved that both characters grew and evolved throughout the story. Eleanor has some prejudices about the Earl and society as a whole. Daniel was a great hero and he found a worthy challenger in Eleanor. Both move outside their comfort zones.
I do have to say there were some parts that felt a little sluggish but the story would quickly pick up again. I liked their chemistry also, they have some great conversations and they added to the wit of the story. I did think that their feelings for each other peeked to quickly and they were both very blatant about how they felt instantly.
Overall, this was a great introduction to Leigh. I found this to be a great and fun story and I could not wait to see how the author would bring Eleanor and Daniel together. I'm more than happy to have another of her books read to read "Scandal Takes the Stage."